5 Questions to Ask Before Purchasing an Investment Property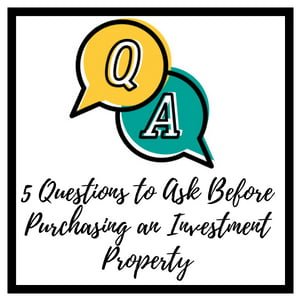 Property investing can be a very rewarding venture but the key to making sure your investment is a success is choosing the right property to start your portfolio. If you are looking to buy a property that is not located in an area you are familiar with there are 5 key questions best put forward to either a property manager or a sales agent in the area.
Speaking to a few agents will ensure you are getting a general understanding of the area and whether it is going to meet your investment strategy now and hopefully in the future.
1. What type of property is in high demand?
Buying a property that is not in high demand may cause longer vacancies and lower rents. Recently in Toowoomba, there has been a high volume of units enter the investment market, this meant that there were more units then tenants looking. The units that struggled the most were older style, 2 bedroom units. Consequently, some investors have been disappointed, their properties have been vacant for some time and they have had to reduce the amount of rent they are asking.
2. Which areas are in demand and why?
Many schools have catchment areas and as a result, properties in those areas can be higher in demand for both sales and rentals. State school catchments can be viewed on the Education Queensland website to see which catchment area a property will part of, but there are other reasons for high demand too. Proximity to hospitals, parks and the CBD can be a determining factor for people looking to rent.
3. Are there any development applications nearby?
Having some extra knowledge on what is coming to an area will give you an advantage on areas to avoid or invest. You may find a great property that seems to be a steal, but not realise that an airport is going to be built next door.
4. What are council costs and levies in the area?
Often investors will calculate cashflow based on expected maintenance incoming rent and management fees but overlook the local council charges. Different councils offer different services and charges so it is best to get an idea of these costs early so you can factor these into your budget. The cost difference on one side of the city compared to the other may be significant.
5. What features are tenants asking for?
Many tenants are seeking a property with a certain set of features. Often these can be air conditioning or heating, fully fenced yards, large yards, additional sheds or a dishwasher. Knowing what tenants are wanting in a new home will give you an insight on what property to choose.
While you are speaking with property managers you can also ask questions about the management services they provide. Check out our blog on How to select the right property manager.
If you would like more information on the Toowoomba investment market please contact us on 07 4642 0007.