5 Things You Must Do Before Signing A Contract On An Investment Property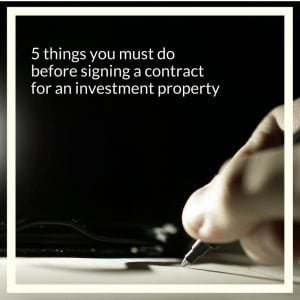 Are you looking to buy an investment property or just about to make an offer on one? Once you have narrowed down the list and chosen the property you need to make an offer and sign a contract. Before you do that, our 5 tips will help ensure that your investment is a success by minimising your expenses and maximising your cash flow from the first day you own it.
1. Obtain an independent rental appraisal
The appraisal supplied to you by the selling agent may not have the most accurate information. Has the estimated weekly rent figure been provided by a sales agent or a property manager? Property managers work day in, day out leasing properties and are likely to give a more accurate figure.
Overly optimistic rent appraisals could mean that your property could sit on the market vacant for a considerable period of time, costing you money. You should obtain a separate independent appraisal to ensure you are buying a sound investment. Alternatively, you could ask for the quoted rental figure to be added to the Special Conditions of the Contract if the selling agent is going to be your managing agent which would keep their appraised figure realistic.
2. Ensure you receive a written report on the surrounding area
If you are not a local of the area you are buying in or haven't lived there before then get your agent to help you learn about the area. A good agent will advise you on the details of the surrounding properties. A great agent will provide you with a full comprehensive report on the local surrounding areas, school catchment areas, median rental yields and market values in your chosen suburb.
3. Compliance can be costly so be aware of what you are buying
During contract negotiations, purchasers can overlook the need for the property to meet certain standards when tenanted. In Queensland, contracts disclose whether or not the property contains compliant safety switches, has compliant smoke alarms and also whether there is a pool safety certificate.
If the property is currently a rental property the agent should be able to provide you with a copy of the compliance certificates. If the property is owner occupied yes the property may have smoke alarms and safety switches but when were they last checked? Smoke alarms have expiry dates and batteries need to be changed annually.
A property can be sold without compliant smoke alarms, safety switches or a pool safety certificate, however, the purchaser will need to ensure compliance before a tenant moves into the property. Cord blind legislation is another compliance area to be aware of however this has not been added to Queensland contracts yet.  If you discover that the contract states that the property is compliant in one of these areas but it isn't, either the real estate agent or the sellers should pay to have this rectified.
4. "Clean" is a very subjective word
Clean to one person can be dirty to another. When a tenant moves into a property the property should be to a "bond clean" standard. This means that carpets should be professionally cleaned, sprayed for fleas if there were inside pets and the yard should also be sprayed for fleas. Other items that can sometimes be missed by the sellers are curtains washed, blinds and window tracks should all be clean and air conditioning filters washed.
Ensuring the owner attends to these items before settlement occurs can all be written into your contract and can form part of negotiations to make sure your property meets these requirements at handover. This can save you hundreds of dollars in preparation for the new tenants.
5. Ensure you have access to property before settlement
Your new investment property needs to be working for you from the moment cheques are exchanged at settlement. As part of the negotiation process, we recommend that you ask for access to the property from when the Contract becomes unconditional. Access can be for the purpose of showing prospective tenants through the property or obtaining quotes for any work that may need to be done.
Knowledge is power when it comes to buying property so ask questions and don't be afraid to walk away from the purchase if it doesn't meet your criteria.
If you need help at all with the purchase of an investment property give us a call on 07 4642 0007. We can also recommend to you some great building and pest inspectors to ensure your new purchase is a safe one that doesn't have any hidden problems.