How important is the entry condition report?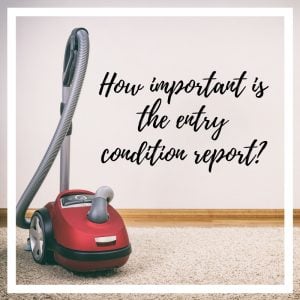 Completing a thorough entry condition report may seem like a tedious task, particularly when you are in the middle of moving, however, this document is one of the most important documents when you are renting a property.
The entry condition report is the basis of the condition of the property when you move in and the document that is referred to at when you move out. For this reason, it is extremely important that the document is valid and correct.
In some offices, the Property Manager that completed your entry condition report may not be the one completing the exit report, so it is important to have a thorough entry report with photographic evidence should there be any issues when you vacate the property.
On move-in day, your Property Manager will provide you with their copy of the entry condition report and ideally would have photos attached to the report to refer to items in the report. It is highly recommended that you don't sign an entry condition report if you have not checked the condition of the property.
Once you are handed the keys and the report it is your turn to assess the property and ensure that the comments made by the Property Manager are accurate. If there are any comments to add to your section of the report, you will need to provide evidence of this, such as photos.
There are very strict timeframes when completing your entry report. The Residential Tenancy Authority (RTA) has advised that tenants must return the report within 3 days, not 3 working days, therefore if you move into a property on a Friday, then the entry condition report must be returned on Monday.
We recommend completing the report before moving any furniture or items into the property as boxes or other items may limit your view of the carpet or walls.
Keep your comments short and to the point but precise. Stating that there is a 'mark on the wall' is not sufficient, however, 'black mark on west wall 160cm high' is more detailed and less likely to be disputed.
Another common area of dispute is the word 'dirty'. If an item is dirty – you need to be more specific. Is it dusty? Is it easily wiped off? Is it a stain that cannot be removed? These are all valid questions that a Property Manager will ask if you have used the word 'dirty' on an entry report.
If you have issues with your entry condition report the best course of action is to discuss your concerns with your property manager immediately. Remember that for an entry condition report to be valid it needs to be signed by the Property Manager, signed and initialled by the tenants (where required) and returned within 3 days.