Mistakes buyers make when purchasing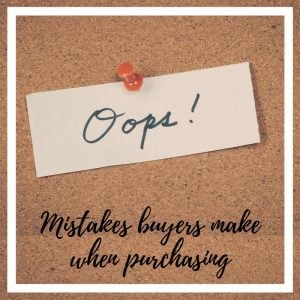 Buying a home is a big commitment and not something to be taken lightly or done on a whim. During my many years in real estate, I have spoken to many buyers that find themselves with buyers regret and uttering the words "if only I had known". Most of the time, these regrets come to light when the buyer becomes the seller, looking to sell their home and move on. For other buyers, regret occurs when their dream home slips through their fingers because they were not properly prepared.
The saying "you only learn from your mistakes" is very true, but in real estate, when hundreds of thousands of dollars are on the line, a mistake can be a costly one. I can admit to making some of these mistakes prior to becoming an agent, so I hope that my series on the top 7 mistakes I see buyers make when purchasing, will aid you in making the correct choices for your journey.
Mistake #1
Not organising a solicitor/conveyancer before finding your dream home
Have a professional review the contract before you sign on the dotted line is vital, so it is essential to know beforehand who you are going to use. A great solicitor/conveyancer should be available for you to talk to over the phone, or in-person to guide you. They should be able to review your contract within 24 hours of receiving the contract.
The cheapest option is not always the best, as there may be additional costs that are incurred later on. You need to find out:
– whether their fee includes all or only some searches
– what are the costs if the contract does not proceed to settlement
– what are the additional fees for each letter they need to write if things get messy
– how quickly will they respond to your queries?
Engaging a solicitor after you have signed a contract can be a recipe for disaster. Even the best solicitor/ conveyancer may find it hard to get you out of a mess once you have placed yourself into it.
Mistake #2
Not obtaining finance pre-approval ahead of time
Before heading out to look at potential homes you need to understand what your borrowing limits are and what you can afford. This will ensure that the house you fall in love with is not out of reach. Buying a home or investment property is one of the most expensive purchases we generally make in our lifetime. It is an exciting time, so it is important to know what can and cannot be achieved to avoid disappointment.
Your mortgage lender or broker will be able to guide you on the specific timeframes required by the lender to turn your pre-approval into final approval once the contract is signed. Armed with this knowledge, you can minimise the finance time period in the contract, making it more alluring to the seller and potentially beating other interested buyers that are also making an offer on the same property.
Organising your finance pre-approval, before signing a contract, will also ensure that you don't spend money unnecessarily on solicitor/conveyancing fees and building and pest inspections by knowing your boundaries. Your dream home is waiting, it is within reach, and you might even be able to afford more than you think.
Next week
This blog will continue next week with another 2 common mistakes that buyers make when purchasing a home. If you need the name of a great solicitor or mortgage broker please give us a call on 07 4642 0007 or email [email protected]