Take your potential agent for a test drive (part 1)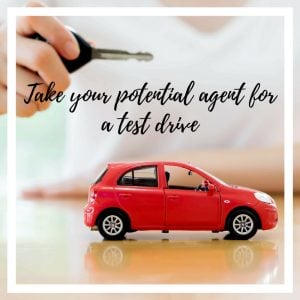 Looking to sell your home or investment property in the near future or rent out your home? If you haven't selected an agent to work with, a great way to shortlist potential candidates is to take them for a test drive, just like you would if you were buying a car.
I would recommend clearing your diary from 10am-2pm on a Saturday and either buy The Chronicle or check out www.realestate.com.au and select four or five agents to visit. There are many factors to consider when selecting an agent, in fact, you could write a whole book about it. Characteristics important to one person won't be important to another person, so here are a couple of tests to give you a starting point.
1. The 'are they on-time test'
A regular complaint about real estate agents, salespeople or property managers is that they are always running late. Prospective buyers or tenants have been waiting out the front of the property to inspect it and the agent arrives 5-10 minutes late. I have even heard of property managers that didn't turn up at all for a scheduled inspection, leaving the existing tenant to show prospective tenants through.
Yes, sometimes things happen, but an organised, systemised, real estate professional will have processes in place to deal with this. Agents that don't allow sufficient time to finalise the last open home, lock-up the property, travel to the next inspection and set up the next inspection are doing a disservice to their client and customers.
I recommend arriving for each test drive open homes 5 minutes early to see if the agent is on-site and ready to go and if they aren't ready to see how late they do arrive.
2. The 'why are they selling test'
I like to conduct this test on agents that I am conjuncting with (they have the relationship with the seller and I have the relationship with an interested buyer).
It has always astounded me what an agent will tell you just by asking the question "why are they selling". I've heard about the death or sickness of a family member, separation or divorce, the sellers have purchased another house and have bridging finance or they are in financial difficulty.
Some sellers may be comfortable for their agent to disclose their reason for selling, but I believe it is only courteous to ask the Seller what they would like you to say.
Now, it is really nobody's business why anyone is selling their property. All a buyer needs to know is that the seller has no further use for the property. The reason buyers ask this question is simply to determine if there is an element of desperation to the seller's reason for the property to be on the market. Or to put it bluntly, is there an opportunity to grab a bargain as the sellers are highly motivated and the property must be sold?
I believe that agents that divulge the seller's real reason for selling are doing a disservice to their clients. When asked this question, an agent should just deflect this back to the buyer by asking them why they are looking to purchase to try and find out the buyers motivation.
3. The 'how negotiable are the seller's test'
On your agent test drive, I would recommend throwing in this supplementary question after the agent has responded to your questions on why the sellers are selling. Again, it amazes me how often an agent will give away money that is not theirs to give away.
Now we all know that most advertised prices are negotiable, but an agent needs to answer this question as though the sellers are in the room listening.
Based on the three tests above, as you leave each open house, ask yourself the question, "do I want that agent representing me and my property?" In the next blog I'll give you a couple more tests for your potential agent.