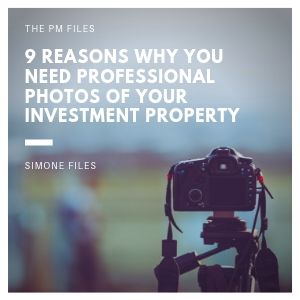 If you're looking to rent your out your property, professional photos are a small  investment that will pay for themselves many times over. The Three P's make all the difference in minimising your vacancy period – Position, Price and Presentation. Professional photos are essential for the 3rd 'P' – Presentation. Here are nine reasons why you need professional photos of your investment property. 
1. Property is looking it's best
If you are just about to lease out your property for the first time, or you have just bought the property, chances are that it is never going to look as good as it does now. This makes it the perfect time to have it photographed, so seize the opportunity before it is lost.
2. Tenants need to give permission for photos
If you find that you need to have photos taken to advertise your property and a tenant is already in place, the tenant needs to give written permission to have photos taken of their possessions. If you have a great tenant, they may agree, but quite often they don't. This could mean advertising is delayed until the property can be photographed, which is not ideal when trying to minimise the vacancy period. Tenants do not need to give permission for you to photograph the front of the property. 
3. Prospective tenants want photos of a room, not furniture

Photos of your property are meant to show the features of the property, not the furniture. Professional photographers use wide-angle lenses that enable them to capture a large portion of the room or space. In turn, prospective tenants and/or purchasers can see how the rooms flow, and, imagine their own furniture in an empty property – visualising it as their home, not somebody else's.
4. Photos are tax deductible
Professional photos tend to start at $100.00 for eight photos and the cost is tax deductible. Just remember to keep a copy of the receipt for tax purposes.

5. You can use them in marketing if you choose to sell
You may not have plans to sell the property, but plans can change. Separation, divorce, illness, a new addition to the family, the death of a family member, redundancy or the opportunity to purchase a business may mean that you need to offload the property. Professional photos are a back-up in case this happens. They also ensures that you don't need to obtain the tenants permission with little notice, especially if the property isn't in great condition.
6. Appeal to the ultimate decision maker?
Nine times out of ten, if a woman is involved in the decision making process, professional photos have a huge impact on the appeal of a property. Professional photos make a property look light, bright, airy and spacious. Professional photographers edit images to ensure it looks it best. They can:
– Green up the grass if there hasn't been rain for a while,
– Edit out tenant furniture, or,
– Add in furniture if the property is vacant.
7. Stand out from the crowd
A professional photographer will make 'staging' changes for each photo. They may remove items from the shot, straighten curtains, blinds or bedspreads – small things to 'pose' the room. If vacancy rates are high in the area, professional photos will make your property stand out from those that don't have them.
8. Property leases quicker
Properties that are well presented and have professional photos are a step ahead of properties that don't. You can use your professional photos to advertise the property before the tenant moves out – generally two to four weeks before, to secure a lease starting only days after the current tenant vacates.  
9. Use them each time you need to re-let
The same photos can be used each time your property is re-let – you don't need to have new photos taken. If you have done major renovations to a room (e.g. renovated the bathroom), it is worth having the photographer come back just to do a quick snap of the room. If you have spent considerable money on improvements you need to show it off. Generally a single photo would cost approximately $20.00. 
About the Author
Simone Files | Principal | Blackbird and Finch
Simone's philosophy is that real estate is not about renting, selling or buying, but about helping people move, and moving is something Simone knows well.  Simone has over 12 years experience in real estate in Toowoomba, and has moved a staggering number of times, an occupational hazard of being involved in the real estate industry. Read more.